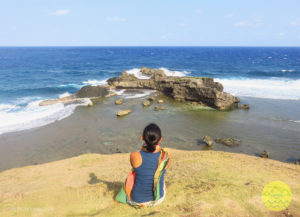 The Philippines' northernmost province, Batanes is a unique treasure trove of dramatic cliffs, beautiful blue waters, abundant reefs and rugged coastlines. Because of its isolated location at the northern tip of the country, getting to Batanes via the daily flights available can get pretty expensive. That's why you gotta time your visists right and watch out for promos by airlines like Skyjet or PAL. Luckily for me, we had a work trip going to Batanes and I got to spend my days exploring the islands if this province, while late afternoons and dinners were dedicated to meetings.
I'm pretty grateful. Exploring Batanes was an awesome experience that was a feast for the senses and a treat for the soul. Plus, I learned cool little tidbits along the way, like how the word "Wakay" literally means sweet potato (kamote) but Ivatans also use it to refer to other Ivatans, especially outside Batanes.
A Budget Guide for Your Batanes Trip
Good news: Batanes can be as expensive or as affordable as you want it to be.
I've always leaned toward the backpacking style of traveling, but I wanted to also outline a budget option for the midrange spenders (see table below for the two budget ranges). For those looking for fancy options, the only difference for an ultra luxurious trip would be accommodation and where you eat. The places to see and what you can enjoy are only limited by time.
Accommodation in Batanes can go anywhere from Php 400 to Php 5,000, depending on how many you are and what kind of digs you want to crash at. Fundacion Pacita is much higher than the 5k, of course, but I think they do have family rooms if you're willing to brave the more expensive option.
Food was a bit pricey but you can always share. You have several options in Basco. Breakfast was free with our hotel, which had complimentary unlimited drinking water. Lunch was free on the tours, except for my improvised and spontaneous tricycle tour.
The tours have pretty standard rates. You can do DIY tour with a tricycle or try ones with tour agencies or have your hotel arrange one for you.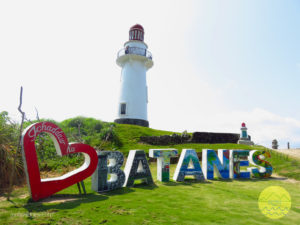 Basco Lighthouse – one of the stops on the North Batan tour.
| | | |
| --- | --- | --- |
| | Backpacker's Budget | Midrange Budget |
| Flights | 8,500 (no promo, Manila-Basco round trip) | 8,500 (no promo, Manila-Basco round trip) |
| Accommodation | 1,000 x 3 nights / 2 pax | 2,600 x 3 nights / 2 pax |
| Exploring / Tours | North Batan: 1,200 for 2-3 pax South Batan: 1,500 for 2-3 pax Sabtang: 1,500 for 2-3 pax + 100/pax for faluwa, 27/pax for jeepTotal: 1,527 | Rate for 3 areas (North & South Batan, Sabtang)Packaged tricycle tour: As low as 4,500/pax with a min. of 3 pax Join a group tour (van): 5,500/pax Private van tours: As low as 5,000/pax for 6 pax and above***Lunch, boat fare and water are included in tours. |
| Tourism Fee | 350 | 350 |
| Food | Breakfast x 3: 450 Lunch x 3: 600 Dinner x 3: 600 Snacks: 200 Water: 150 Total 2,000 | Breakfast x 3: 450 Lunch x 1: 300 Dinner x 3: 900 Snacks : 100 Total 1,800 |
| Total | Php 5,377 + flights for 4D3N | Php 10,550 + flights for 4D3N |
A Three-Day Itinerary Outlining Tour Stops
I arrived in Batanes very early on a sunny Saturday morning. All the airlines arrive pretty early, allowing visitors a chance to get a full day of exploration in for their first day. And trust me, you don't want to waste a single day of your stay in Batanes.
The first day I did the South Batan Tour solo, renting a tricycle. On Day 2, our host organization arranged for a combination tour of Batan Island. I got to see North Batan then. We visited Sabtang Island on our third day.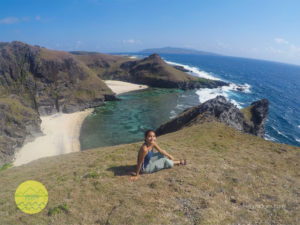 Chamantad-Tinyan Viewpoint on Sabtang Island.
If you have the time, don't do the combination tour. The limited time sorta makes you feel pressured to move from site to site. You can't really soak in the beauty and appreciate each place. Plus, you skip out some stops in South Batan during the combined tour. This is why the itinerary I'm outlining has a dedicated tour for each day.
Day 1 – North Batan
8:00 AM – Arrive in Basco, tourist registration, airport pick-up
9:00 AM – Check-in at hotel
9:30 AM – Breakfast and settling in at hotel
11:00 AM – Early lunch
12:30 PM – North Batan Tour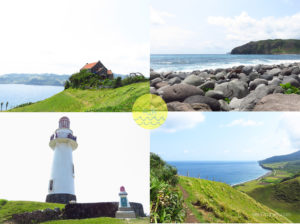 The Rolling Hills of Vayang
Naidi Hills and Basco Lighthouse
Sto. Domingo de Guzman Cathedral
Valugan Boulder Beach
Japanese Hideout Tunnels
Idjang Viewing
Fundacion Pacita
Mt. Carmel Chapel
5:00 PM – Sunset Viewing (options below)
Basco Lighthouse
Beach in Brgy. Chanarian (across from Amboy's and Villa Hontomin)
7:00 PM – Dinner
Day 2 – South Batan
7:30 AM – Breakfast
8:30 AM – South Batan Tour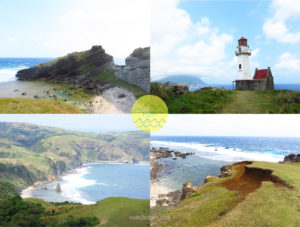 Chawa View Deck
San Carlos Borromeo Church and Blank Book Archive
Homoron Blue Lagoon and White Beach
House of Dakay and Old Spanish Bridge
San Jose de Obrero or Ivana Church
Honesty Coffee Shop
San Antonio Parish
Muchong Viewing Point
Ruins of Songsong Viewing
Imnajbu Point and Alapad Pass/Rock Formation
San Lorenzo Ruiz
Racuh a Payaman/Marlboro Country
Tayid Lighthouse
Mahatao Boat Shelter
5:00 PM – Find your sunset spot: Chawa View Deck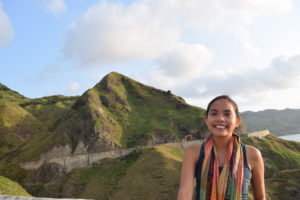 Catching the sunset at Chawa View Deck. Credit: Ritzie Mar Apaitan
7:00 PM – Dinner
Day 3 – Sabtang Island
5:00 AM – Breakfast
5:30 PM – Travel to Ivana port
6:30 AM – Depart for Sabtang
7:30 AM – Arrival and start of Sabtang Island Tour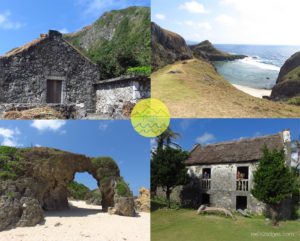 Conscience Café
San Vicente Ferrer Church
Savidug Village
St. Thomas Aquinas Chapel
Chamantad-tinyan Viewpoint
Chavayan Village
Morong Beach, Mahayaw/Nakabuang Arch and Ziplining
Sabtang  Island Lighthouse
1:00 PM – Back to pier for return boat trip
Day 4
6:30 AM – Airport transfer
7:00 AM – Check-in for flight home
That last day at the airport, all I could think about was planning a trip back here, hopefully a longer one with Terry in tow and overnight stays on the islands of Itbayat and Sabtang on the itinerary. Heck, maybe even camping on Vuhus Island. Now, if only my savings would cooperate with this dream.
I think many a visitor to Batanes has had similar notions at the end of their trip. It's so different from the rest of the country, but somehow you feel at home and connected to it. And of course, in awe of its beauty. It's an amazing part of the Philippines, which has earned a special place in this blogger's favorite list.
Here's another travel guide for transportation to and around Batanes, available accommodations there and other travel tips.