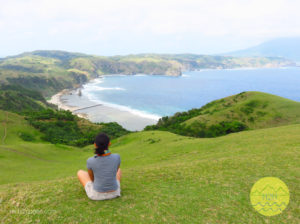 Aptly called the Home of the Winds, Batanes is made up of rugged, picturesque terrain and choppy azure waters constantly buffeted by strong, cool winds.  For a fun-sized aka tiny person like myself walking along the cliffs and ridges of the hills was always a thrill, that feeling that you just may be swept up by the breeze and fly… or get blown out to sea. Either way, it was exhilarating.
On particularly blustery days, it almost felt like the islands of Batanes had been shaped into stunning vistas all by currents of air. And maybe a little magic. Ha. Seriously, the place was enchanting. And honestly, I don't need to convince you. You're here reading this post for reason.
Batanes, with its picture perfect scenery, interesting culture and mild mannered people, has already captivated you. And now all you need is to find your way there…
Getting There and Around
Flying to Batanes
From Manila, you can have your pick of daily flights with Skyjet (www.flyskyjetair.com) and Philippine Airlines (www.philippineairlines.com). Another option is to fly in from Tuguegarao with Sky Pasada (Mon, Wed, Thu, Sat – http://skypasada.com) and Northsky Air (Mon, Wed, Fri – http://www.northskyair.com). Alternatively, Wakay Air offers chartered flights.
Most hotels have airport transfers and will send staff to meet guests upon arrival. If not, there are tricycles around the airport area that can take you to the town proper. You can contact the Batoda hotline: 0929-703-8404.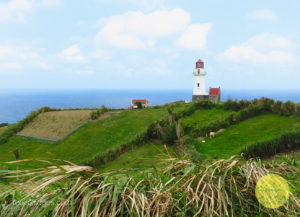 Transportation Options on the Different Islands
Rental transport (cars, motorcycles, tricycles and pedal bikes) are available on Batan, Sabtang and Itbayat.  When renting a tricycle, ask for drivers certified in Tour Guiding or Tourist Driving by the province and Dept. of Tourism.
For commuting in Batan, you can take jeepneys from Basco to the other towns. Trips run from around 5AM to 4:30PM. For Basco to Ivana port, the fare is around Php 27. If you get off in a different town, make sure you find out when the jeep's last trip is so you don't get stranded there.

For an itemized budget of transport expenses, as well as a sample itinerary, go see Three Awesome Days in Batanes: A 3-Day Itinerary and Budget Guide
Accommodation
Everything from homestays in authentic Ivatan dwellings to cozy hotels are available in Batanes. You just have to take your pick of which one suit's your traveling style and budget.
Backpacking Budget: Homestays and Pension Houses
Itbayat
At Php 300/person per night, you have the option to stay at Levinda Lodge (+63-921-566-8269), Cano's Lodge (+63-919-300-4787), Ibanes Guesthouse, Sta. Lucia Guesthouse and Gordo Homestay.
Sabtang
There are several accredited homestays on Sabtang. A bed in Nanay Adela's house at the Sabtang Lighthouse costs Php 500 per night. Book ahead by calling +63-921-496-7233 or +63-918-488-2424. Or ask your tour guide or tricycle driver to make the reservation for you.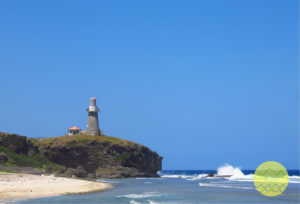 I wish we could have stayed the night and slept at the homestay beside the lighthouse. 
In Chavayan, you can sleep in traditional Ivatan stone houses for around Php 150/person per night at Hostallero Homestay (+63-939-288-1033), Hornedo Homestay and Nanay Maring Homestay. Closer to the port, you can opt for homestays or rooms in Sinakan for Php 150-300 per person. If you don't have reservations, you can go to the barangay hall for assistance in finding a homestay.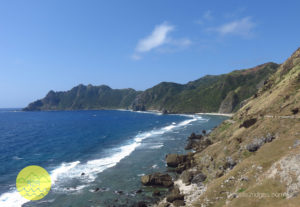 The scenic drive to Chavayan where some homestays are. 
A Head's Up:  Power on Sabtang cuts off at around midnight, so make sure to fully charge your electronics before then.
Basco
As the provincial capital and the location of the main airport, Basco has – unsurprisingly – the most number of available accommodations. There are a good number of homestays and backpacker accommodations here. The bigger hotels and inns can be found in Basco, too.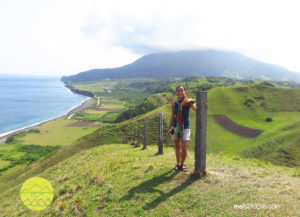 Marfel's Lodge and Homestays (Main, Annex and 2 Homestays)

Address: Reyes cor. De Padua St., Brgy. Kayvaluganan, Basco

Rates: Php 400-1000 for 1-2 pax, Php 1200-1800 for 3-4 pax (Add Php 600-800 per room if you want A/C)

Note: Only selected rooms have a private bathroom. The rest have shared bathrooms. See their website to check which rooms have an ensuite.
Contact number: +63-908-893-1475, +63-917 857 4493
Email: marfellodge@gmail.com
Website: http://marfellodgebatanes.com/
Wakay Homestay

Address: 154 Fajardo Street, Brgy. Kayvaluganan, Basco

Rates: Php 350 per night (fan room)

Contact number: +63-917-353-5356, +63-998-984-1062, +63-919-317-4794
DDD Habitat

Address: Lopez St., Brgy. Kayvaluganan, Basco

Contact number: +63-932 165 9176, +63-908-436-9547
Email: dddhabitat@yahoo.com
Florabell's Iraya Guest House

Address: Castillejos cor. La Fuente Street, Basco

Contact number: +63-929-166-0223, +63-916-544-2493
Martin's Inn

Address: Castro St. cor. National Road, Brgy. Kaychanarianan, Basco
Contact number: +63-919-22-8898, +63-916-232-3590
Email: rgquerubin@yahoo.com.ph/ martins.innbatanes@gmail.com
Resorts, Hotels and Inns
This is where I stayed with our hosts.  Amboy's staff are great – knowledgeable, friendly and accommodating. The food is delicious and cooked with fresh catch and vegetables from their own organic garden.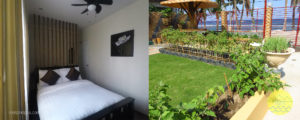 My room at Amboy's and the hotel's organic veggie garden out front with tomatoes, eggplants and lemongrass. All over the hotel property you'll find vegetables as well as herbs growing in pots, containers and plant beds.
Address: National Road, Brgy. Chanarian, Basco
Rates:  Php 2800-3000 for 2 pax, Php 3300-3500 for 3 pax, Php 5500 for 4 pax
Note: Free breakfast, airport transfers, complimentary purified water and toiletries for all rooms.
Contact number: +63-917-871-7633, +63-939-643-8982, +63-920-910-3492
Email: amboy_hometel@yahoo.com
Website: www.amboyhometel.com
Dive Batanes

Address: Brgy. Chanarian, Basco

Rates:  Php 2600-3600 for 2 pax (all rooms), 500 per additional guest

Note: Free breakfast, airport transfers.

Contact number: +63-939-922-4609
Villa Hontomin

Address: National Road, Brgy. Chanarian, Basco
Rates:  Php 3000 for 2 pax, Php 3800 for 3 pax, Php 4800-5000 for 4-5 pax
Note: Free breakfast, airport transfers, all rooms with beach views.
Contact number: +63-998-567-8654, +63-927-871-2157
Email: villahontomin@yahoo.com, villahontomin@gmail.com
Batanes Seaside

Address: National Road, Brgy. Kaychanarianan, Basco

Rates:  Php 2200 for 2 pax, Php 2600 for 3 pax, Php 3100 for 4 pax, Php 3500 for 5 pax (Add Php 200 to room rate for peak season); Php 300 for extra bed
Note: Free breakfast, airport transfers.
Contact number: +63-999-992-4977, +63-927-788-5508
Email: batanesseasidelodge@yahoo.com, reservation.bslr@gmail.com
Website: www.batanesseasidelodge.com
No introduction is needed for this famous hotel in Batanes. As the most expensive and luxurious option among all the other resorts and hotels, Fundacion Pacita is known for sweeping views of the beautiful Batanes landscape, plush rooms with pretty interiors and secluded terraces,  amazing food at Cafe du Tukon and accommodating staff.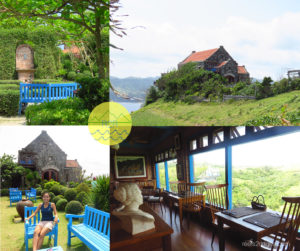 Address: Brgy. Chanarian, Tukon, Basco
Contact number: +63-939-901-6353, +63-917-855-9364, +63-939-198-2733
Email: inquiries@fundacionpacita.ph, fundacionpacita50@gmail.com
Website:  www.fundacionpacita.ph
Midtown Inn

Address: Abad St, cor. Lizardo St., Basco
Rates:  Php 2600 for 2 pax, Php 3200 for 3 pax, Php 3500 for 4 pax, Php 4000 for 5 pax
Note: Free breakfast, complimentary bottled water, airport transfers.
Contact number: +63-921-3677-933, +63-906-5317-064
Email: midtowninn.batanes@gmail.com
Website: http://midtowninnbatanes.com
Bernardo's Hotel

Address: Payin Street, Brgy. Chanarian, Basco
Rates:  Php 2800 for 1 pax, Php 3400 for 2 pax, Php 4200 for 3 pax, Php 5200 for 4 pax

Contact number: +63-917-512-5346, +63-908-816-4811
A Heads Up:  Hotels along the National Road in Brgy. Chanarian have beach access. Guests can cross the road to swim in the clear waters or laze by the beach. You also get unobstructed views of the sunset from the beach.
Travel Tips
Food can be a bit pricey, considering how a good portion of it has to be shipped from mainland Luzon. However, in my experience, the dishes served are usually big enough to share. Meals range from around 180-350 in hotels, but there are also affordable eateries in Basco.
On another foodie note: Say no to coconut crabs please. According to BFAR, the crabs are a threatened specie and shouldn't be caught due to depleting numbers. Although I did notice that fishermen/restaurants do limit their sale to a small number per day, they are still prone to being overharvested.
The best place for souvenirs was at

Chamantad-tinyan

Viewpoint on Sabtang Island, IMO. The pasalubong store on National Road in Basco also sells affordable souvenirs, but you can get the same things at a lower price on Sabtang.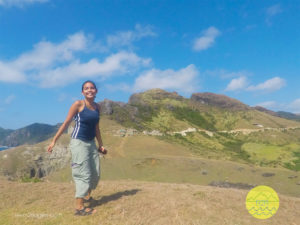 Ignore the goof in the foreground. Behind me are the stalls and huts of Ivatan vendors at Tinyan Viewing Point.
If you're prone to motion sickness, bring along some anti-nausea, antihistamines or antiemetic medications. You can also non-pharmaceutical motion sickness remedies like ginger, peppermint and smelling salts. We rode on a "calm day" but it was choppy enough to make the others in our group go green. The upside is faluwas are open air boats, although it can get a bit wet…
Keep your stuff in waterproof bags or cover them if you get a seat at the front of the faluwa to Sabtang or Itbatyat. Even on sunny days, the faluwa rides gets a bit bumpy and water tends to splash over the sides.
First timers, join a tour… unless you've researched on every bit of Batanes for months.  The tour guides are fun and informative. Plus, they have a good eye for photography.  We tried two tour agencies – Amboy's Hometel and Ryan Cardona's Bisumi Tours. Both did great, especially Bisumi because it was a last-minute booking (we called  Ryan at 9PM the night before to leave for Sabtang at 5:30AM).
For more information on Batanes: