Because of its lush marine ecosystem and pretty corals, Apo Island has become a mecca for divers, avid snorkelers and "I just want to swim in the sea" tourists alike. The island has a marine sanctuary and over 10 noted dive sites.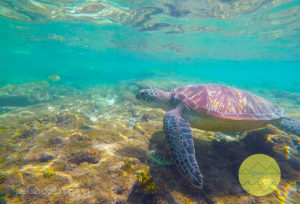 Sea turtles and brightly colored fishes abound in the shallow reefs in front of Apo Island's beaches. 
Getting There
We've always taken a car when we went to the Dauin port for Apo (Who doesn't love road trips?), but using public transport is easy enough.
Step 1: First off, you need to get to Dumaguete City. From other cities and islands, you can take a bus, plane or boat to get there. See this post on  for a more detailed breakdown of transport options to get to the City of Gentle People.
Step 2A: In Dumaguete, go to the Ceres Bus Terminal and ride the Bayawan City bus (check that it goes through Zamboanguita), and tell the conductor you'll get off at Malatapay Market in Dauin. Travel time is from 30-45 minutes. The fare ranges from Php 25-50 (either regular or A/C bus).
Step 2B: You also have the option to ride a jeep to Malatapay for around Php 20-30, with the same travel time. You can ask a Dumaguete tricycle to take you to the jeep terminal near the Dumaguete public market.
Step 3: At Malatapay Market, it's a short walk to the shoreline and Malatapay port, where motor boats dock. Day trippers, leave Malatapay early to avoid the crowds and have enough time to enjoy the island. Boats return to Dauin at 3 PM. Some will stay a little longer, but Coast Guard regulations dictate that the latest departure is at 4 PM.
There's a standard tariff for a two-way trip, and sharing a ride with others for an 8-seater boat is the cheapest option. If you stay overnight, they charge Php 200 for next day pick-up.
Shared commuter boat, trip is once a day (around 2PM from Dauin and 7AM from Apo) – Php 300, one-way
Boat for 4 passengers – Php 2,000 round trip
Boat for 8 passengers – Php 3,000 round trip
Some boats take 6 passengers – Php 2,500 RT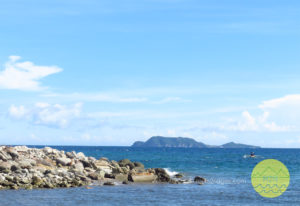 Apo Island as seen from Malatapay Port.
If you're not up to a do-it-yourself adventure, you can join  a tour. Just remember that times and stops aren't flexible. I love the ease of having everything prepared for you by tour operators, but the downside is you're at the whims of the majority. Resorts and tour operators from Siquijor, Dauin and Dumaguete offer dive or snorkeling trips to Apo Island. Snorkeling and dive gear are included, and usually there's lunch. Check out resorts like Coco Grove on Siquijor, hostels like Harold's Mansion in Dumaguete and several Dauin resorts for tour packages.
A Head's Up: Expect to get wet! Change into your swimsuit or clothes you're okay with getting soaked. Wear aqua shoes or flip flops, and keep electronics in dry bags. AND listen to boatmen when they ask to keep bags in closed compartments. Terry didn't listen and ended up with a sopping wet bag and clothes. For other Apo Island travel tips, go here.
Sanctuary Fees & Gear Rental
Charges and rental prices you might encounter on your trip to Apo Island:
Environmental fee and registration upon arrival: Php 100
Protected area fee (1 guide for 4 people for snorkeling or swimming in the turtle area; guides are required to protect marine life): Php 75 per person
Snorkel and mask, aqua shoes and lifejackets for rent: Php 100 each
Tip: If you're on a tour, just borrow a lifejacket from the boat you're on.
A Head's Up: We didn't see any waterproof cameras for rent, unlike other well-known snorkeling spots in the Philippines. If you don't plan on bringing your own, contact resorts ahead to see if they have them or check with tour operators. 
For an itemized budget of all expenses, see our budget for two days on Apo Island.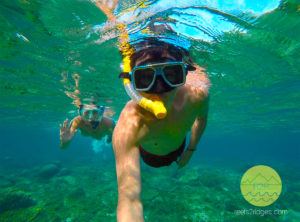 Making use of our snorkeling gear. 🙂
Accommodation
There are a number of places to stay on Apo Island. Ranging from quaint homestays to cozy resort cottages, there are choices for every budget type.
A Head's Up: Electricity is only available from 6-10PM on the island.
Backpacking Budget: Homestays and Dorms
Ronor's Lodging

Rates: 500 for 2 pax with breakfast, 1000 for 2 pax for all 3 meals
Note: 2 shared bathrooms for all 4 rooms upstairs
Contact number: +63-915-775-2422, +63-916-920-5272
Mario's Homestay Dorms

Rates:  500-1000 for 2 pax (double bed in all rooms), 200 for an extra person
Note: ensuite bathrooms
Contact number: +63-906-361-7254, +63-919-622-3671
H-H Rooms

Rates: Php 150 per person, 2-3 persons per room
Note: 2 shared bathrooms for all 5 rooms (construction was going on in December 2016 so there might be more rooms now)
Liberty's Lodge and Apo Island Resort also have dorms (see the rates below)
Resorts

Epic views of Rockpoint from Apo Island Resort's cottages and private beach. 
Apo Island Resort

Rates:  2700-3400 a night, add 600 for an extra person; 800 per person in dorms
Note: Private bathrooms come with fresh water in containers. Electricity is extended to 11PM.
Contact number: +63-939-915-5122, +63-910-219-3959, +63-917-701-7150
Email: apoislandresort@yahoo.com
Website: www.apoislandresort.com
Liberty's Community Lodge & Dive Resort

Rates:  1,300-3,350 for 1-2 persons, 800 for an extra person; 1000 per person in dorms (10 beds)
Note: All 3 meals are included with room rates. Private bathrooms inside sea view rooms and outside the fan rooms. Shared bathroom for dorms.
Contact number: +63-920-238-5704, +63-920-912-4593  (Smart)
Email: apoislandliberty@gmail.com, Skype: libertyresortandpds
Website: www.apoisland.com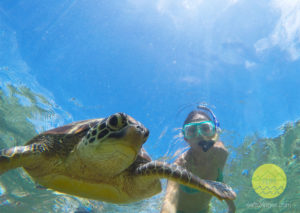 Want more information related to Apo Island?