Getting There and Around
By Land:
Buses from Bacolod travel over land (fare from Php 290+)
There are also Cebu buses that go directly to Dumaguete (fare from Php 280+) including the ferry.
Another option is from Cebu's South Bus Terminal,  ride the bus to Lilo-an Santander (from Php 170+). There you can get on a roro vessel (around Php 70+) headed to Sibulan where you can get a jeep to Dumaguete City (from Php 12+).
By Sea:
Boats to Dumaguete are from Cebu City, Bohol (Tagbilaran), Siquijor, Dapitan, Dipolog and Zamboanga. Some are fast ferries, while others are roros.
By Air:
You also have the option to fly. Planes from Manila and Cebu City fly to Dumaguete twice a day.
Transport Around Dumaguete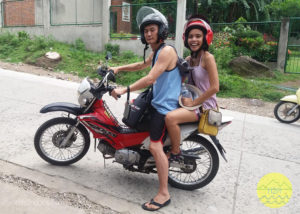 Our friend, Tim, took this during our 40-minute ride up to Casaroro Falls. Credit: Timothy Lambert.
Scooter or motorbike rental – We recommend this mode of travel for seeing Dumaguete and surrounding sites of interest (Casaroro Falls, Twin Lakes, Pulang Bato Falls, etc.). It's quick and easy, allowing youto see more sights. Plus, you can customize your itinerary with a vehicle of your own.

Rates: Php 400-500 per day, around Php 2,500 a week
Where to Rent Them:  There are a number of places to rent a motorbike. Usually hostels and hotels will have a partner rental office they refer their guests to. If you want to book a bike on your own, try these places:
Tricycles – Within Dumaguete proper, drivers will charge you Php 8 for the first kilometer. Further than that, it rises to Php 10. Fare to the airport is around Php 32. Outside of the city proper or downtown, ask the trike first and try to negotiate for the fare to where you want.
Jeeps or multicabs – The base fare is Php 7 for the first 4 kilometers, a standard around the Philippines.
Accommodation
The Dumaguete area has several options for travelers, from rustic rooms in the mountains to posh suites at seaside resorts.
Backpacking Rates:  Hostels
205 Hibbard Avenue, Dumaguete
Room rates: Php 1,000-1,600 for A/C rooms (2-4 pax), Php 400-600 for fan rooms (1-2 pax), Php 300 per person for dorms
Note: Ensuite bathrooms for A/C and dorm rooms. Some fan rooms have a shared bath, others have an ensuite one. Complimentary breakfast, free coffee and tea, free lockers.
Contact number: +63-917-302-4455, +63-939-925-6322, +63 35 522-0144
Email: infoharoldsmansion@gmail.com
Website: http://haroldsmansion.com/
The Flying Fish Hostel

32 Bantayan. Hibbard Avenue, Dumaguete

Room rates: Php 1,250-1,800 for private rooms (2-3 pax), Php 425-470 per person for dorms (6-10 beds)
Note: All rooms are air-conditioned.
Contact number: +63-35-422-0167
Email: flyingfishhostel@gmail.com
Hostel Tropical

Jose Romero Road, Bagacay, Dumaguete

Rates: Php 500 per person in bunk bed dorms, Php 1,600 for a family room (2-3 pax)
Contact number: +63-35-522-4946
Email: hosteltropicaldumaguete@gmail.com
Inns, Hotels and Resorts
Rizal Blvd. cor. Dr. V Locsin St., Dumaguete
Room rates:  Php 800-1,500 for A/C rooms (1-3 pax)
Note: Ensuite bathrooms. Complimentary breakfast.

Contact number: +63-35-225-1181, +63-922-839-3435
Florentina Homes Apartment Hotel
L. Rovira Road, Bantayan, Dumaguete
Room rates:  Php 1,800-2,800 for hotel rooms for 2 pax, Php 350 for an extra bed, Php 4,400-5,100 for an apartelle for 4 pax
Note: No breakfast, but some rooms have kitchenettes and apartelles have kitchens.  Free airport and seaport transfer within Dumaguete.
Contact number:  +63-35-422-0827, +63-929-796-9653
Email:  florentinahomes@yahoo.com
Website: www.florentinahomes.com
EJ Blanco drive, Brgy. Piapi, Dumaguete
Rates: Php 2,500-4,400 for 1-2 pax, Php 400 for extra bed
Note: Complimentary breakfast.

Contact number: +63-35-420 – 9621, +63-917-502-3407

Email: sierrahotel_dgte@yahoo.com
39 Real St., Corner San Juan St., Dumaguete
Rates: Php 1,600-4,900 for 2 pax, Php for an extra bed

Contact number: +63-35-422-1136 to 37, +63-917-700-7735, +63-908-820-2123

Email: info@hotel-essencia.com
Hibbard Avenue, Dumaguete
Contact number: +63-915-349-1132
Banilad, Dumaguete