Here's a step-by-step guide to the US Visa Interview Waiver Program (aka the Drop Box Program), which is the perfect solution for travelers who wish to renew their US visa without having to go to the US Embassy.
As OCD as I am, I was a bit skeptical and also worried because I never used my second 10-year visa. However, my traffic-averse side wishing to avoid Roxas Blvd. appealed to me to try it out. I'm glad I did because I got my passport with the visa 2 business days after I submitted my documents. Yes, 2 days. I sent the documents on a Friday afternoon, they processed it Monday, and my passport was delivered on Tuesday morning.  It took them 1 day to process everything and send it back to me.
It was a painless process that saved me time and money. For one thing, there was no need to take a day off from work for an interview. Then, there's the travel. Those living outside of the NCR can avoid the hassle and extra expense of traveling to Metro Manila, and those living in the metro don't have endure the commute via Roxas Boulevard.
Checking if You're Eligible
First things first – you have to verify whether you qualify for the Interview Waiver Program. Here's the criteria for eligibility:
I have a previous B1/B2 visa that I wish to renew.
My visa was issued after July 1, 2007.
My prior visa was valid for at least five years.
My prior B1/B2 visa is still valid or expired within the last 12 months
I am a citizen of the Philippines.
My prior visa does not say "Clearance Received" or "Travel with Employer".
I have my passport with my B1/B2 visa in my possession.
My name, date of birth and gender on my last B1/B2 visa do not need to be changed or corrected.
My most recent visa was issued on or after my 14th birthday.
The last time I applied for a B1/B2 visa it was approved.
You have to be able to answer YES to all these.  If you're applying as a family, all members should be meet the qualifications. If ineligible, your application will be returned via courier and you'll have to schedule an appointment for your interview.  One blogger shared that she answered No to one requirement (she had to change her last name b/c of marriage), and she still was found eligible, so there could be some flexibility for certain things.
Step-by-Step Process
1. Gather What Information You Need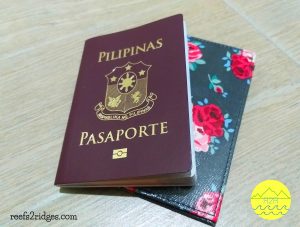 Before you decide to tackle the DS 160 form, you should have the following documents or information handy:
– Passport (current one and the one with your visa if it's in a different passport);
– Digital version of your 2×2 visa photo;
– Travel itinerary, if you have already made travel arrangements;
– Contact persons in the US, their address and contact number;
– Dates and duration of your previous trips to the United States, international travel history for the past five years;
– Résumé or Curriculum Vitae – You'll be asked to provide details of your current employment.
2. Fill Out the Online DS-160 Form
When you're ready, you have to fill out the Nonimmigrant Visa Electronic Application (DS-160) form, which is online here.  Take note of your application ID and the answer to your security question. You'll need both to retrieve your application in case the system times out or you've taken too long and the system logs you out. Here's what it looks like: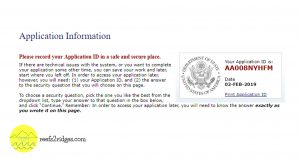 Be sure to save your application every few minutes and for every page. The system isn't very friendly to the Philippines' slow internet.  I was logged out a few times, too, because I took too long searching for the info I needed (hence, step #1). You have 30 days to complete the online DS 160 form and you can retrieve your unfinished application at any time within those 30 days. After that, the application will expire and you'll have to start over again.
While researching about the process, I came across an immigration site which outlines the sections of the DS-160 application and what questions will be asked throughout. This helped me prep my answers for the form beforehand so I wouldn't take forever and get booted off by the system.
3. Pay the $160 Fee.
I know the embassy's site asks you to pay the fee first, but you don't necessarily have to right away. However, you should pay before registering  on the CGIFederal site to apply for the waiver. I paid after I finished my application and got my confirmation letter.
For the Philippines, there are two options – online (via Bancnet or BPI) or over-the counter payments at BPI. For the latter, print a deposit slip (link found at the payment page, see screenshots below) before going to the bank. Take note of your receipt number on the deposit slip. You'll need it to complete your profile and get your waiver letter.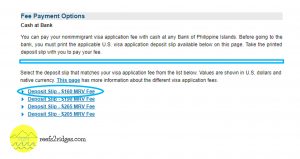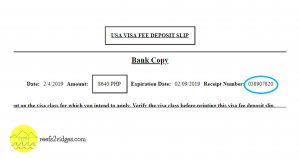 For online payments, first check the deposit slip if you have a peso account to get the exact amount you need to pay.  Don't copy the receipt number there. Instead, go to the payment page's online payment section and click the BPI or Bancnet option. It'll lead you to a page with instructions and your reference number. Keep this number for the registration later.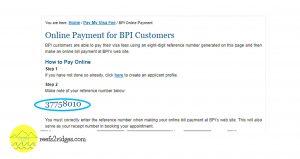 4. Register at the US Embassy's CGI Federal Site and Qualify for the Waiver.
The last step online is to register at the CGI Federal site where you create a profile.  You have to click the "New Application / Schedule Appointment" option, citing your visa type when you fill in details, after registering so the system recognizes you're applying for a renewal.
Here, you answer the qualification questions and provide information such as your application ID, payment reference number,  and preferred delivery address (or pick-up point). Once you're done with the registration, you'll receive an Interview Waiver Confirmation letter and document checklist. Print this letter for submission. You should also keep a copy (either printed or digital) for your records.
5. Drop Off Your Documents at a 2Go Outlet
Once you've printed all your paperwork, prepare the following for delivery via 2Go to the US Embassy:
– Interview Waiver Confirmation Letter;
– Current and old passport with previous B1/B2 visa;
– 2 pcs. 2×2 inch colored photos, white background on glossy paper; unedited and taken within the last 6 months; facial expression must be neutral with both eyebrows and ears exposed.
I also included my application confirmation and supporting documents. I added the docs because I was apprehensive about the non-use of my second 10-year visa (all my trips were under my first one).  The application confirmation letter does encourage documents to support your application. So, I included these docs for my peace of mind: certificate of employment, bank certificates and proof of assets. It's probably unnecessary, especially if you've traveled often to the States, but it doesn't hurt so in the envelope they went.
Drop off your interview waiver confirmation and passport along with the requirements mentioned above at any 2GO outlet.   If you forget to include any of the requested items, your application will be returned via courier.
Visa App Approved! Now, the Return Delivery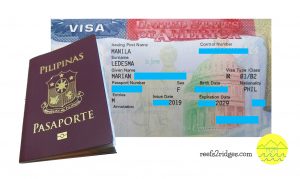 2Go texted me the morning of my passport's delivery. I had my passports and my other docs delivered to my office since I knew I'd be away and it might arrive when Terry's not home. If you're not sure if you'll be able to receive it in person, leave an authorization letter and your ID with the person who'll receive the delivery. I actually wasn't able to leave a letter, but luckily 2Go left it with our HR officer.
The whole thing took 2 business days for me, but do keep in mind it may take longer if you're living outside Metro Manila or if there's an influx of applications. It may be a week or two for some applications because of additional documents being required or data needing to be verified.
Now, you're all set to renew your visa without having to go to the embassy. Looking at the year ahead, I'm sure you'll end up using your visa before I use mine. Lol. Happy travels!