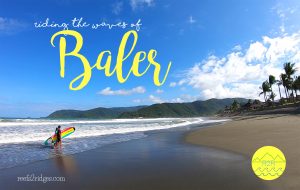 When people hear "Baler", they immediately think of surfing in the capital of Aurora. What then follows are thoughts of quiet coves, pretty waterfalls, rocky shores and good hiking. The last isn't surprising given how close the town is to the Sierra Madres. So, it's safe to say Baler is paradise for nature lovers and adventure seekers. While getting there can be a long haul from Manila, this relaxed little beach town and the natural wonders in its area more than make up for it.
Writing this post and thinking about all Baler has to offer has left me jonesing once again for another trip back. Yes, that's how great Baler and the memories it'll give you are. It draws you in like riptide, but in this case, it's all good. Here are some helpful (I hope!) tips for your trip there.
How to Get There & Back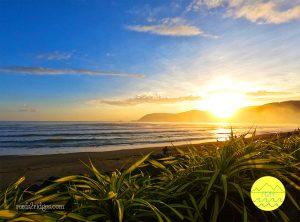 Direct from Manila to Baler
Genesis – The Genesis bus is your average air-conditioned bus and the ride has a few stops along the way. As of December 2018, the fare from Cubao to Baler is around Php 488. Travel time is 6-7 hours.  Trips run daily, starting at 10:00 PM until 7:00 AM with 2-hour intervals.
JoyBus – The "fancier" and faster Joy Bus is a non-stop ride with reclining seats, pillows, blankets, complimentary snacks and a restroom onboard.  Bring a sweater or jacket as it gets pretty cold. As of December 2018, fares are Php 650 (semi deluxe) and Php 730 (deluxe). Travel time is 5-6 hours. Deluxe buses have trips at 12:30 AM, 1:30 AM and 2:30 AM. Semi deluxe buses leave at 1 AM and 5:30 AM.
Terminal Location: Cubao – 704 EDSA (northbound side) corner New York St., Cubao, Quezon City
Mobile Numbers: 0933-852-7648, 0933-8520-7638
Landlines: Genesis – (02) 551 0842, (02) 332-8075, (02) 421-1425 || JoyBus – (02) 709-0544 to 45, (02) 441-6834
Online: Facebook (Genesis Transport Service)
Manila to Baler Via Cabanatuan
A cheaper but longer/trickier alternative is going via Cabanatuan City, Nueva Ecija. Buses from from Pasay and Cubao head to Cabanatuan daily for about Php 200. Vans can also be taken from Manila. At the Cabanatuan terminal, you take a van or bus to Baler for about Php 180-250. Travel time from Manila is 3 hours and it's another 3-4 hours to Baler from Cabanatuan.
Bus from Baler to Manila
The same buses have return trips to Cubao for the same fares. The Genesis bus runs daily from 4:00 AM to 10:00 AM, with 2-hour intervals.  A semi deluxe JoyBus leaves at 4:30 AM and 12:00 noon, while deluxe buses have afternoon trips (1:00 PM, 2:00 PM, 3:30 PM).
Terminal Location: Baler Central Terminal, Brgy. Pingit, Baler, Aurora
Contact Details: 0933-852-6773, 0933-852-0851, (02) 332-8075, (02)421-1425
Getting Around Baler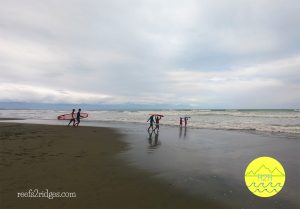 Visitors of Baler have several modes of transport to choose from to get around town and even see nearby spots. In town, you can take a tricycle for Php 10-20 per person, but the town center is small enough to walk to most places, too. For hired vehicles and tours, you can get a habal-habal which is especially good for going off the beaten path, a tricycle (Php 800/day or Php 500/half day, 3 pax) or a van (Php 2,500/day, 10-12 pax).
If you or your group are into DIY tours and exploring the area on your own, you can rent a bicycle (Php 300/day) or a motorcycle (Php 500-800/day). Terry and I love day trips on motorbikes, a great way to discover a new place and its best spots. Ask the locals for tips, routes and hidden gems.
Where to Stay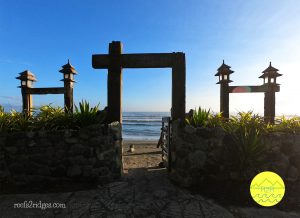 From budget accommodations at hostels to laid back surf camps and posh resorts, Baler has a place for every traveler. I've shared a few of them below, including the spot where we stayed (Nalu).
Rates: Php 500 for a hammock, Php 600 for a mixed/female dorm room, Php 1350 for a 2-pax room (buddy/bunk or cuddle/double bed)
Contact details: website or FB, baler@thecirclehostel.com, 0917 501 0235
If you're looking for a laid back vibe, look no further. The Circle Hostel is a backpacker favorite in Baler, complete with a half-pipe for skaters and comfy bean bags for lounging in the communal area. Use of the kitchen, a banana-and-sandwich breakfast and drinking water are all free. Oh and the place has hot and cold showers.
Rates: Php 250/person in the hammock room, Php 3,000-3,500 for a nipa hut w/ fan (2-3 pax), Php 4,000-4,500 for a traditional bungalow (2-4 pax)
Contact Details: website, nalusurf.ph@gmail.com, +639178172606/ +639178049323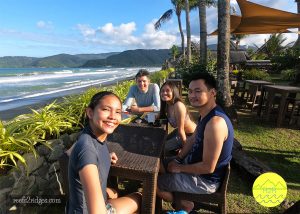 Right on Sabang Beach, Nalu Surf Camp is mere steps from the water. It has a pool, loungers for relaxing and its own surf school. The staff was awesome, letting us stay way past check out on our last day (we left at 5PM!). Nalu has a variety of accommodations from simple nipa huts to aircon rooms facing the water, all with hot showers. Their restaurant has an outdoor dining area that overlooks the beach. Meals here are tasty, affordable and come in good-sized portions.
BlueCoco Beach House Baler
Rates: Php 3,500 for 4 pax, Php 4,000 for 6 pax, Php 8,000 for 8 pax
Contact Details: website or FB, rommel.barlin@yahoo.com, balersafehavenbnb@yahoo.com, +639175401234, +639399207418
BlueCoco has a cute Santorini-style design going on, and its units are perfect for groups.  All units have hot showers and a parking space for your car.  Their 10-pax units with 2 bedrooms come equipped with a kitchen.  They also serve meals and can schedule massages for you. 7/11 short walk away if you need to buy toiletries, snacks and drinks. Downside is I heard you'll need to bring your own towel or rent one.
Rates: Around Php 6,000-8,000 for a suite
Contact Details: website, reservations@costapacificabaler.com, +632 519 4249, +63 917 844 8371 and +63 998 841 7124
By the boardwalk on Sabang Beach, you'll see the luxurious resort Costa Pacifica. Surprisingly, it's pet-friendly so you can bring your fur babies along with your human kids. Speaking of kids, Costa Pacifica has a huge pool overlooking the beach and a playground. While it's the pricing is quite steep, it does make up for it with free surfing lessons for guests and an amazing breakfast buffet at The Beach House, their in-house resto.
Other places to stay:
Hotel Motel Charlie Does Inn – FB, +63939 830 1913
Surfhouse Baler – website, +63 9985678293
Aliya Surf Camp –  website, inquire@aliyasurfcamp.com, Mobile: +63 939 9390929
L'Sirene Boutique Resort – website, info@lsireneboutiqueresort.com, +63917-743-8556
Activities and Things to See
1. Surfing or Surf Lessons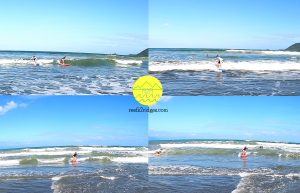 One bucket list item checked! This is what the town's known for and you should give it a go at least once. We went in December when the waves are still a bit rough for beginners, but everyone who tried managed to go, even coordination-challenged me.
Most resorts will offer surf lessons for Php 350/hour (board rental included). If you want to save a bit of money, there are also surf instructors on Sabang Beach that charge Php 250/hour. They hang out by the lifeguard tower. The surfboards for newbies are pretty stable. Surfboards rentals for experienced surfers are Php 200/hour, Php 400/half day and Php 800/day.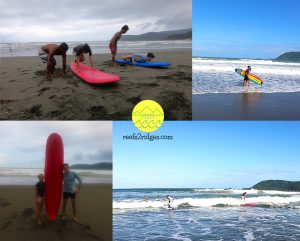 Despite being battered a few times by strong waves, I loved the experience. I left Baler vowing to surf again. I also learned I'm goofy-footed (left foot in the back as the dominant one), which is weird because I'm right-handed. Next time, I want to try surfing with my natural footing.
2. Swim at the Falls
If you're looking for fresh water instead of the salty kind, the area has a couple of waterfalls you can plunge into. In Baler's Brgy. Zabali, you can catch a glimpse of Diguisit Falls from the road. Diguisit Beach is close by. The climb up to the falls is an extremely short one (less than 10 minutes), but it does get slippery and visitors are asked to be careful when going up.
Next to Baler is the town of San Luis where Ditumabo Falls or Mother Falls can be found. The trek to this falls is much more taxing than going to Diguisit Falls. It takes about an hour and multiple river crossings are involved. Still, once you've conquered that particular trail, you'll be rewarded with a swim at the base of Ditumabo Falls, which is around 140 feet in height.
3. Misty Dawns and Stunning Sunrises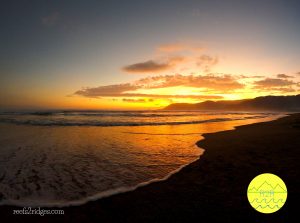 Take advantage of the east-facing beaches in Baler and watch the majestic sunrises. They're pretty beautiful, made even more amazing by the accompanying mists that floating over Aurora's rugged coast at dawn. The mists added a surreal and almost mystical feeling to the whole experience.

Not a morning person? If you're there in colder months, you can still see the swirling mists after the sunrise or during the day in cool weather. It sometimes gets foggy, and it makes for a dramatic picture of the coast.
4. The Historical Side of Baler
Want to go back in time for a bit? Baler has several places of interest for those wanting to know more about the town's rich history.  You have the Museo De Baler,  displaying artifacts from the Spanish colonial period and even Manuel L. Quezon's restored presidential car. A few meters from the museum building is Aurora Aragon-Quezon's ancestral home. Once you've had your fill at the museum, visit Brgy. Zabali's Ermita Hill, where a few families escaped to during the tsunami that struck Baler in 1735. The tsunami wiped out the town and the surviving families later rebuilt Baler with the local parish priest. From the hill, you sweeping views of Sabang Beach, Baler Bay and the Pacific.
5. Beach Hopping, Snorkeling and Swimming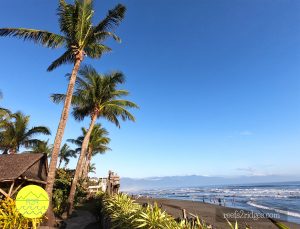 For sun seekers interested in more than just hitting the waves, you can take a dip at Sabang Beach. Swimmers should be wary though of newbie surfers with rogue boards and shallow water riptide that'll drag you away if you're not careful.
In Brgy. Zabali once more (this bargangay seems to have it all), you can find the unique Aniao Rock Formations battered by crashing waves, making it a visually stirring sight. The islets off Zabali's coast also draw rock climbers and in the calm months, you can snorkel and dive in the area. Located in the same barangay is Dicasalarin Cove, a private beach you can visit for a fee (Php 300 paid at Costa Pacifica, hotel guest only pay Php 100). Having seen the photos, I'd say you get your money's worth – gorgeous creamy white beach and access to the Baler Lighthouse, where you get epic views of the cove. Getting to Dicasalarin is a bit difficult, but it can be reached by van/car, boat or habal-habal.
Outside of Baler, there's Ampere Beach in the town of Dipaculao. Its rock formations get enveloped in mists at times and the round, smooth stones are reminiscent of Batanes' Valugan Boulder Beach, albeit a compact version with smaller stones. From Baler, it's estimated to be 40 minutes away by car or 1 hour away by tricycle.
So that's it for now. I hope we can add more things to do after our next trip to Baler. Hope you have fun exploring this slice of paradise, and discovering all there is to see and do in this amazing part of Aurora!