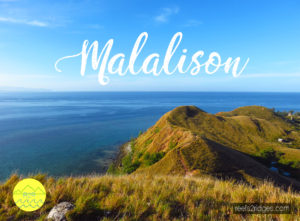 Called Mararison by the locals in their dialect, the island lies across the water from the Northern Antique town of Culasi.  As people referred to Malalison as the Visayas' answer to Batanes, I was expecting that it'd be an extremely compact and way warmer version of its Northern Luzon counterpart. I've been to both now and to call Malalison Antique's Little Batanes isn't quite fair. The island has a completely different take on natural beauty with its tropical appeal and white sand.
I suggest you arrive in Culasi the day before you plan to visit the island, so you can watch the sunrise from Malalalison. If you're staying the night on the island, then you can arrive in the morning and see the sunrise the next day. It's totally worth the 3 AM 3 or 4AM wake up call if you're sleeping on the mainland.
Getting There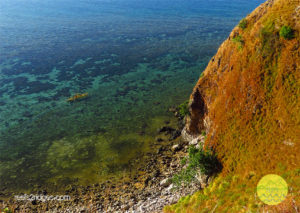 Who's up for a boat ride?
Reaching Culasi
Commuting, you can take a van or bus bound for Antique from Iloilo City, Kalibo or Caticlan. If you're going via Iloilo, take one from the Molo Bus and Van Terminal. Vans take 4-5 hours, while a Iloilo-Culasi or Iloilo-Pandan bus will reach Culasi in 5-6 hours for Php 200.   Via Kalibo or Caticlan, take buses and vans bound for San Jose, Antique. Caticlan is about 1.5 hours away and costs Php 80+, while it'll cost you Php 150 for a 2 or 3-hour ride from Kalibo.
You can also drive to Culasi with  a rental car or hired van. On our trip with my cousins, we took their car. I always enjoy a good road trip; they're always pretty memorable and usually include some hilarious bloopers. Like me thinking we'd wing it driving to Culasi – no maps! 🙂 My cousins didn't kill me since we got there in one piece. Never take for granted how friendly Filipinos are when you need directions. 😀
In a private vehicle, you can reach Culasi in about 3-4 hours from Iloilo City, depending on traffic you may encounter. From Kalibo, it's around 2-3 hours, while it'll take you 1-1.5 hours to get to  Caticlan from Culasi.
Crossing to Malalison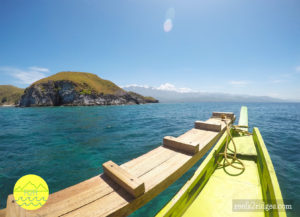 Once you get to Culasi, head on down to the port. This is walking distance from the highway. You can rent a boat at the Culasi Port for Php 750 (max. of 5 persons). If you're not in a group, you can share a boat with others for Php 150/person. There's also a terminal and environmental fee of Php 30.
Your boat will also give you a tour around the island if you request it.  Ours took us to some snorkeling spots near the sanctuary and Nablag Islet. Make sure to bring dry bags so your gear doesn't get wet when the waters get choppy and waves start splashing.
Activities
1. Watch the Sunrise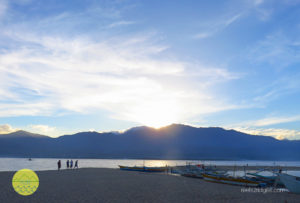 You'll forget about waking up a couple hours before dawn when you see the sun peak over the mountains. The sun slowly rising above the peaks of Mt. Madjaas' mountain range is a glorious sight.  You can watch the sunrise from the sandbar where you'll dock or from the top of the island's hills (if you're there extra early to hike up before the sun peaks).
If you're in the town proper, make arrangements with your accommodation the night before so you get your wake up call and boat ready for the early morning crossing. Once you're on Malalison, you can get a guide at the entrance into the village for the hike or you can chill on the sandbar. If you've slept on the island and want to see the sunrise from the hills, make sure to find a guide the night before so he/she will be ready to take you up well before dawn.
2. Hike the Trails
It's a really easy trek up the hills with well-maintained trails. Fill your water bottle, because you'll want to linger on the trails for a long while! The views are too spectacular to not stop, stay and snap pictures for a bit.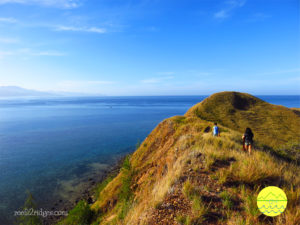 On the trail, some areas have a bit of loose stones so be careful about securing your footing. Wear outdoor shoes or sandals if you can. Flip-flops are fine as long as you're comfy enough to do easy hikes in them and are careful about where you're stepping on the downward slopes. Btw, don't forget to take your snorkeling gear on the trek over the hills. It may seem odd, but you'll end up on the other beaches and you'll be glad to have the gear on hand (see the activity #3 below).
Sadly, the village still has a lot to learn about sustainable and eco-friendly tourism. Several guides told us to just leave our trash along on the trail. Real bummer. Even if they pick them up at the end of the day, that still gives irresponsible tourists a bad idea.  If they ask you to do so, please refuse and practice proper waste disposal. They seemed perplexed when my cousins and I repeatedly refused to and told them why. We found bags to collect trash in. I hope Culasi's LGU trains the community on eco-tourism practices to preserve Malalison's beauty. They'll appreciate the lessons when tourism and income is sustainable for the village and nature.
3. Snorkeling and Swimming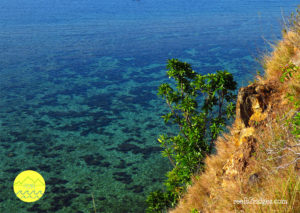 The beaches of the island vary in sand type – some fine white, others more rugged with rocks and old corals – but all them have absolutely clear waters.  Not only are they crystal clear, but they're abundant with marine life.
We got to swim in the sanctuary near the small cave at the end of our hike and there were a lot of fishes and corals. We rode a boat back to the village from the sanctuary for Php 50 per boat (3 persons) and got to see more lovely snorkeling spots.
4. Boating Around the Island
After your hike, you can take a little boat from the other side of the island for only Php 50 for 3 persons. This is if you're too tired to walk back or want a leisurely ride to check out the hills from the water.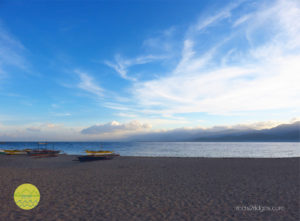 But if you're walking back, your boat rental includes a tour around the island which you can take from the village (where the boat's docked) at any time. We rode the boat to the back of the island to see Nablag Islet and to go snorkeling over the reefs in deeper waters around that area. The current can get a bit strong in certain areas so always get the boatmen's all-clear before jumping in.
Where to Stay
Homestays on the island vary from Php 250-300 a night per person. One option for a homestay  experience is Arjee's Homestay which you can contact via the homestay's Facebook page or through phone at +63-915-308-3111. Another person you can contact is  Angelita Macuja (+63-912-815-9672 and +63-939-266-8849). There are also cottages and rooms for rent if you inquire on arrival. Cottages range from Php 350 to 1,000 (2-6 persons), while rooms cost Php 1000-1500 (2-6 persons).
The power on Malalison as of summer 2017 is limited to the hours between 5-10PM. There are generators for rent if you'd like to have electricity past this time.  If you want to have access to power all night and day, your other option is to stay in Culasi on the mainland.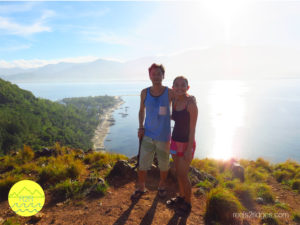 At this overlook, you get a view of Panay and the village where there are affordable homestays.
In Culasi, Aircon rooms for 2 persons can be as low as Php 890 a night. We stayed at Anna Sophie Hostel for a Php 1,200 A/C room with breakfast included. It's more of a hotel or inn rather than a hostel (rooms from Php 900 for 2, Php 1500 for 4-pax family rooms available).  You can contact them via phone (+63-920-476-2508), email (hostelannasophie@gmail.com)  or Anna Sophie Hostel's official Facebook. It's a great place to stay at and they can arrange your Malalison Island tour and even accommodation, as they have their own boat and rooms on the island. They also helpfully arranged our Tibiao kawa bath and gave us directions for Pandan's cold spring. Another option is LS Suites (+63-947-893-8239, rooms from Php 890).
Must Eat!
Of course, there's an abundance of fresh fish on the island. You won't be disappointed with the grilled seafood there. Not surprisingly, you can buy snacks and a drink on the other side of the island after the hike. There were a couple of vendors close to the cave on the beach.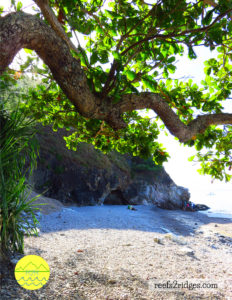 A nice spot on the beach to enjoy a well-deserved drink and bite to eat. There's a swing, too!
On the mainland, there's one place you have to visit – Mammamia (cue the Abba song). It's a well-known Italian place in Tibiao, about 15 minutes from Culasi. All the blogs I've come across rave about it and now I know why. The food is authentic and delicious! Pizzas are freshly baked from the oven and the pastas have the best ingredients.   The owner, a nice Italian man, said the recipes were from his mom. We loved it so much we ate there twice. Hehe. The owner  gave us shots of grappa (Italian brandy made from grape skins) on the second night. While keeping on budget is important, I do have to suggest you splurge just a little and treat yourself to some Italian food at Mammamia. You won't regret it.
Estimated Budget for 3 Days and 2 Nights
The estimate below is for what you'll spend per person for 3 days and 2 nights with of group of 5. It's obviously  cheaper to spend the night on the island at a homestay with shared bathroom facilities than on the mainland or renting a cottage/room on the island. But it's not that big a difference, especially if you're in a group and will split room expenses.
Note: The food budget is slightly high. We weren't skimping on meals – we had a ton of fresh seafood on the island and we went to Mamamia.  But as I said, I respect the budget (as much as it pains Terry on our travels, hehe). There are some good eateries and simple restos around Culasi (we ordered a hearty lunch at Anna Sophie), and you can also bring food from the mainland to grill on Malalison.
| | | |
| --- | --- | --- |
| Expenses | Stay in Culasi | Stay on the Island |
| Transportation to Culasi (round trip)Iloilo-Culasi by bus at Php 200 | 400 | 400 |
| Boat to Malalison (round trip) | 150 | 150 |
| Terminal and Environmental Fee | 30 | 30 |
| Guide: Php 200-300 per group of 5 pax | 50 | 50 |
| Accommodation (2 nights) - Culasi - Php 1200 for 2 persons or Php 1500 for 4 - Malalison - Php 1000-1500 for 2-6 persons in a room/cottage or 250/person for a solo homestay | 1200 | 500 |
| Meals - In Culasi/Tibiao - 150-300/person/meal - On Malalison - 100-150/person/meal | 750 (lunch, 2 dinners on mainland) + 250 (breakfast, lunch) | 400 (lunch, 1 dinner on mainland) + 350 (breakfast, lunch, dinner) |
| TOTAL for 3D/2N | Php 2,830 | Php 1,880 |