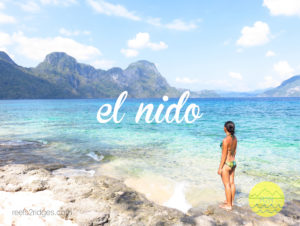 Think of this as a budget guide to paradise. El Nido is home to dozens of white sand beaches, handfuls of lagoons and seemingly "undiscovered" coves – all of which are accented by  majestic karst cliffs, colorful reefs, lush forests and interesting limestone formations.
Sadly, people always equate going to this tropical utopia (at least it is in my eyes) to spending an exorbitant sum of money. Well, guess what? That's the furthest thing from the truth.  Like Batanes, El Nido can be an affordable destination if you want it to be. In fact, El Nido can be, I daresay, pretty darn cheap if your travel style is more backpacker/average traveler than posh luxury.
El Nido can be enjoyed on  a backpacker's budget. So if you've always wanted to go or are jonesing to go back there, then you shouldn't let your budget worries stop you from planning your adventure.
Our 7-Day Itinerary
Seven days in El Nido may seem a little long to just stay in one place, but El Nido's more than just a one-hit wonder. Beyond the usual-but-still-worth-it island hopping tours, you'll find other escapades like inland day hikes, waterfall swims, beach hopping along the coast, calming drives on roads. For the more adventurous, there's beach camping, kayaking in open water, discovering isolated coves on a bike and surfing.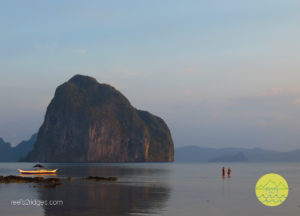 To be honest, a week felt like it wasn't enough. We've been back three times, and still haven't managed to do everything. Although I do admit, we have favorites that are "on repeat". Bike rides and kayaking and snorkeling on the tours.
If your trip is less than seven days long, just select the days/activities which interest you from our itinerary below. For those short on time, I suggest you stay for a minimum of four full days. From our experience, anything shorter sorta leaves you hanging. Sad but true fact: we only had 3 whole days our first visit. Four days is enough to see the highlights, all the best parts of El Nido, without feeling rushed.
Day 1
10 AM
11 AM
12 PM
4-6 PM
7 PM
Arrive in Puerto Princesa
Grab an early lunch or some takeout for the bus
Van/bus to El Nido
Arrive in El Nido; check-in at hotel; catch the sunset in El Nido's Poblacion (town proper)
Dinner & drinks
Day 2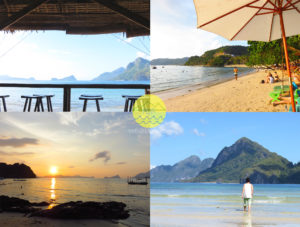 Breakfast in EN's Poblacion
Leave for the beaches of Marimegmeg and Las Cabanas
Arrive at the entrance to Marimegmeg
Pick a spot on the beach and try out some of these suggestions
– Activities – You can do a lot throughout the day on Marimegmeg. Here are some of things you can try: swim, paddle board, snorkel, grab a drink or a meal at the beach bars, kayak, zip line to Depeldet Island, party/lounge on the floating bars,  jet ski, etc.
– Lunch & snacks – There are at least five bars & restaurants along Marimegmeg Beach and Las Cabanas Beach, starting with Sun Bar. My favorite is The Beach Shack for its yummy cocktails, great quality of ingredients, and awesome vegetarian sandwich.
– Photo tip: Las Cabanas Resort at the end of the beach affords you some stunning views of the bay.
Wait for the sunset
Head back to EN's Poblacion
Dinner & drinks
Day 3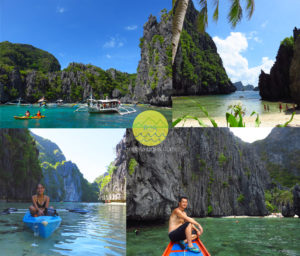 7 AM
8 AM
9 AM
5 PM
5:30 PM
7 PM
8 PM
Breakfast
Gather for Tour A (hotel pickup or meetups at the Poblacion town beach)
Tour A
– Big Lagoon, Small Lagoon, Secret Lagoon, Seven Commandos Beach
– Lunch at beaches on Shimizu Island or Miniloc Island
Tour ends in El Nido's Poblacion
Watch the sunset
– Possible vantage points: beachfront bars, access lane to Caalan Beach, shores of Caalan
– If it's open, you can climb the barangay building on the access lane.
– Try a drink or halo-halos at Makulay Lodge. Their spot affords you some great views.
Dinner
Check out the shops & bars of El Nido
Day 4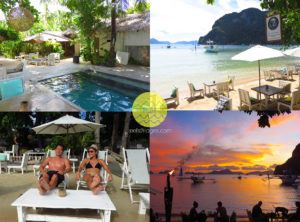 Breakfast in EN's Poblacion
Walk or ride a trike to Corong-corong
Find a beachfront bar/resto or a shady spot by the shore
– We picked La Plage, an awesome beach bar with comfy sofas and loungers.
– If you want to cool off you can choose between a dip in Bacuit Bay or their pool.
– Activities: swim, paddleboard, kayak, meals & drinks at beach bars
Sunset views from Corong-corong are especially epic.
– Grab a seat along the shore, set up your tripod & wait for the "light show".
Dinner & drinks at Corong-corong
Day 5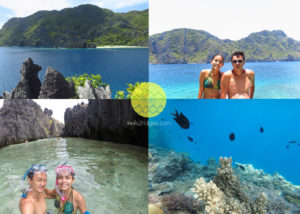 7 AM
8 AM
9 AM
5 PM
6 PM
8 PM
9 PM
Breakfast
Gather for Tour C (hotel pickup or meetups at the Poblacion town beach)
Tour C
– Hidden Beach, Secret Beach, Matinloc Island, Helicopter Island
– Lunch at Talisay Beach or beaches near Matinloc Shrine
Tour ends in El Nido's Poblacion
Shops and souvenirs time! Or maybe a massage.
Dinner & drinks
Check out the shops & bars of El Nido
Day 6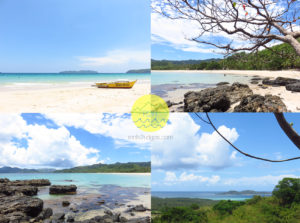 6:30 AM
7 AM
7:30 AM
8:30 AM
10:30 AM
11 AM
1:30PM
2:30PM
4PM
5:30PM
7PM
9PM
Breakfast
Rent a motorbike & gas up
Begin road trip up north
Nacpan Beach – swimming, relaxing
Leave for Duli Beach
Duli Beach
-Munch on some food at North Swell or Duli Beach Resort
– Swimming, exploring the beach and rocky cove (left side)
Leave for Sibaltan
– Check out the cashew trees along the highway
Sibaltan beaches and secluded shores in Northern Palawan
– We ended up at Qi Palawan, but there are several spots and resorts along the way.
– Tip: Watch for the beach/resort signs on the roadside. You'll find a lot of amazing stops.
Ride back to El Nido
Arrive in El Nido
Dinner & drinks
Get a well-deserved massage
Note: I highly recommend splitting up your day trips to the northern beaches into 2 days – 1 day for Nacpan, the waterfalls and closer stops; 1 day for Duli Beach and crossing over to the Sibaltan side of El Nido. I'll be posting about our road trips on bikes in a separate post. FYI, we managed to do this ride in 2 days since we spent 7 full days in El Nido, arriving in the early morning hours of Day 1 instead of the afternoon.
Day 7
Breakfast
Last minute shopping
Bus or van ride to Puerto Princesa
Arrive in Puerto Princesa
Expenses and Budget Outline for 7D/6N

Our budget covers a 7-day trip to El Nido. If you have less time, just take a look at the itinerary, pick out your favorite days planned and pick out what expenses you'll eliminate for your shorter stay.
Depending on the season, flights to Puerto Princesa and direct flights to El Nido will vary. Your one-way flight budget can range from Php 600 on promo to Php 4500 during holidays.
Php 9,000  or about $200 for a week in this tropical paradise isn't a bad deal at all, in my opinion.
So what are you waiting for? El Nido is calling. 😉