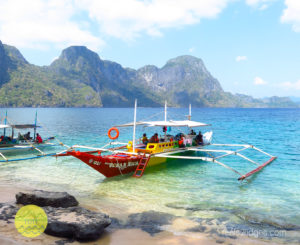 El Nido, known for the spellbinding Bacuit Archipelago, has always held a special spot in my heart. More than the fabulous white sand beaches, dazzling karst formations and water of aquamarine shades, you can't help but fall in love with the relaxed atmosphere of this seemingly sleepy beach town.
Yes, there events like full moon parties and fluorescent raves, and more than a few awesome bars along the shore, but these aren't what makes El Nido such mindboggling treat for the senses. You find your way to this wonderland for the rare slices of epic natural beauty, witnessing it all with a chilling-in-the-tropics vibe.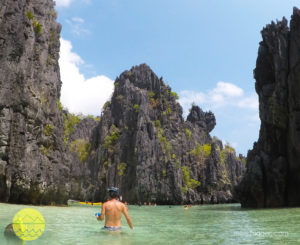 Getting There
There are many options for you to choose from, the most popular of which is via Puerto Princesa. Transportation choices will vary depending on the level of comfort you want and of course how much you're willing to cough up to get to the promised land. 😉
Drive Along the Highway
From Puerto Princesa – Ride a van, bus or private car. If you've flown to Puerto Princesa, go to the San Jose Terminal. There, you can find vans and buses that will take you to El Nido and other stops in Northern Palawan (e.g. Taytay, Roxas, etc.).
Bus:

From/to San Jose Bus Terminal, Puerto Princesa (with s
tops in Taytay & Roxas)
Travel Time: 6-7 hours
Cherry Bus:

Php 350-480
5AM – 9PM, leaves every 2 hours

Roro Bus:

Php 320-450
Php 4AM – 10PM, leaves every 2 hours
+63-998-184-6761, +63-917-597-1182

Van:

From/to Puerto Princesa
Travel Time: 4.5-5 hours
Rates: Php 500+ or 600 with pickup

Eulen Joy:  +63-999-709-3766, email:  eulenjoyexpress@yahoo.com
Camarih:  +63-917-8497646, email: camarihtransport@gmail.com
From Other Points in Palawan – In Roxas and Taytay, you can hop on/off the vans or buses above. You can also ride a van to/from Sabang (Php 800) and Port Barton (Php 500 with Recaro Van @ +63-930-568-3429 or +63-915-262-6298).
Sail the Seas
If you're planning to do Coron as well as El Nido, there are boats that sail between the two destinations. Fast ferries, cargo ships and outrigger pump boats  go to El Nido from Coron and vice versa.
Montenegro Lines fast craft

Daily, Php 1500-1760 for 3.5 hours
Contact: +63+917-496-2009, +63-998-985-1428

Outrigger boats

Daily, Php 1400+ for 5-9 hours
Jessabel: :+63-918-967-6837 to 38 / +63- 915-850-1391
Bunso: +63-910-720-8443 / +63-906-637-4258

MV May Lillies

Weekly, Php 1000-1150 for 8 hours
Tao Philippines also offers adventurous travelers a chance to go on a 5-day island safari, stopping at various islets and island communities.
Fly In
Flying is the most expensive option, but it's also the quickest and the most hassle free. One-way tickets range from around 4,000 to 7,500. As of May 2017, you can fly in from Manila, Mactan (Cebu), Clark and Caticlan (Boracay) on Air Swift. Flights can be booked through the airline's website (www.air-swift.com), an authorized travel agent or their call center hotline at +63-02-318-5941 and +63-02-318-5943.
In & Around El Nido
El Nido's Poblacion (town proper) is quite small, so all you need to do is walk. From end to end, I'd say it's a 15-minute walk across. Just be sure to keep swimsuits covered when traipsing about; roaming the streets in bikinis and teeny tiny Speedos are no-nos. Respect the local culture please, like the legit and savvy traveler you are.
To get to other picturesque barangays/beaches of mainland El Nido, you can rent a motorbike or jump on a trike. Bikes range from Php 450 (fully automatic scooters) to Php 800 (manual transmission dirt bike).Newbies are advised to take a scooter.
A tricycle ride to Corong-corong is Php 20-25/person (or about 15-20 minutes's walk if you fancy). To Marimegmeg & Las Cabanas, you'll pay Php 35-50, depending on your haggling skills. A Nacpan trip will cost you about Php 900-1300. Again, you gotta flex those negotiation muscles to get a lower price.
And how about reaching the islands and the seemingly infinite coves and beaches waiting to be explored for the day?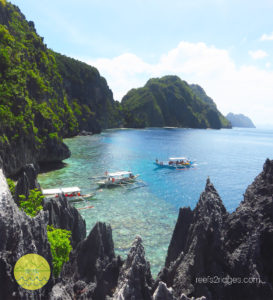 For roaming the islands of Bacuit Archipelago, sailing around the bay and getting up close to those awe-inspiring karst cliffs, join a tour group or get a private tour on outrigger boats or speed boats.
We joined Spider Travel and Tours for our last trip. The team of boatmen were funny and enthusiastic. They made sure we got our money's worth in experiences, beautiful views, amazing snorkeling and good photos. They also went out of their way to find better lunch spots if areas got too crowded, and assisted all the weak swimmers in exploring sites so they wouldn't miss out. I especially like that last part, because a couple foreigners on our tour couldn't swim, but never once were they asked to remain on the boat. El Nido's a place everyone can enjoy, and the boatmen helped those with swimming worries realize that.
Accommodation
In the past five years, Terry and I have seen so many hotels, inns, resorts and hostels pop up in El Nido. And that's just in the Poblacion. While it can be a bit worrying for nature lovers like myself, it's good for tourism & the town's progress in general. You have variety in accommodation type, amenities and price. Below is a list of places for the everyday traveler, arranged according to location.
Poblacion / El Nido Town Proper
Biolina Guesthouse (Inn) – Calle Lisang or Lisang St., Brgy. Maligaya near Villa del Vincejos

Private rooms for 2-3 pax and dorm-style rooms for 4-6 pax all have private bathrooms; free Wi-Fi, coffee and towels/linens
Php 1200-1500 for rooms good for 2-3 pax
Contact: +63-907-527-8584, +63-916-217-6130, @BiolinaGuesthouse on Facebook
We've stayed at Biolina for all 3 of our trips to El Nido. Every time, the super nice owners (Ate Maribel and Kuya Ronnie) have gone above and beyond with their hospitality. Our last trip, we decided to show up a day early, arriving at 3AM. With only a few hours' notice by text,  they had prepared an empty dorm for us to crash in until our reserved rooms were ready the next day (our original day of arrival). They didn't even charge us a half day rate even though we used the aircon room from 3AM to noon.
We've also  pointed friends and family in their direction, and have gotten awesome feedback (a surprise party  when the owners found out it was one guest's birthday; a complimentary Christmas noche buena meal for all the guests). They do special and thoughtful things for the guests like that, making your stay an unforgettable one.
Just a FYI: If you need any tips on what sights to see beyond the tours, the owners and their daughter, Kim, have some good info for day trips outside the town proper – beaches, resorts and mangrove areas up north.
Edleah's Inn – Serena St., Brgy. Buena Suerte

Private rooms with bathrooms; free Wi-Fi, coffee and linens/towels
Contact: +63-930-320-1875, @EdleahsInnElnido29 on Facebook
El Nido Viewdeck Cottages – Balinsasayaw Road, Brgy. Maligaya

Fan and A/C native cottages with views from terrace; free breakfast, linens/towels and Wi-Fi
Php 1000-2500 for 2 pax
Contact: +63-927-723-4067, inquiry@elnidoviewdeck.com, http://elnidoviewdeck.com, @elnido.viewdeckinn on Facebook
Balay Paragua (B&B) – Lisang St., Brgy. Maligaya

Private rooms with bathrooms; free Wi-Fi, coffee and linens/towels

Contact: +63-925-886-0414, +63-915-745-2553, paragua_23@yahoo.com
Bulskamp Inn (Inn) – Osmena St., Brgy. Masagana

Private rooms for 2 pax (twin or double)
Our Melting Pot (Hostel) – Calle Real, Brgy. Buena Suerte (beside the municipal hall)

Dorm beds; free Wi-Fi, breakfast and linens
Php 500-700 for a dorm bed
Contact: +63-906-412-7861, omphostel.elnido@gmail.com, @ourmeltingpotelnido on Facebook
Spin Designer Hostel (Hostel) – Balinsasayaw Road cor. Calle Real

Private rooms and dorm beds all with ensuite bathrooms; Free Wi-Fi

Php 3000 for a private room (1-2 pax), Php 1000 for a dorm bed

Contact: +63-917-566-7746, spinhostelph@gmail.com
Corong-corong
Outpost Beach Hostel (Hostel) – beachfront, Sitio Lugadia, Brgy. Corong-Corong

Private rooms and dorm beds; free Wi-Fi and towels/linens
Php 500-700 for a dorm bed, Php 2300+ for a private room for 2 pax
Contact: +63-945-128-1729, outposthostels@gmail.com, @outpostbeachhostel on Facebook
The Birdhouse (Glamping) – above Maremegmeg Beach, Brgy. Corong-corong

Glamping tents on platforms overlooking the bay, with private bathrooms
Php 5500 per tent good for 1-4 pax
Contact: +63-995-766-7346, +63-998-318-8918, thebirdhouseelnido@gmail.com, www.thebirdhouseelnido.com
Duli Beach
Duli Beach Resort – beachfront on Duli Beach, Brgy. Bucana

Bungalows on the beach with porches and private bathroom; free breakfast
Php 2500 per bungalow for 2 pax
Nacpan Beach
Jack's Place (Inn, campsite) – beachfront on Nacpan Beach

Bungalows, tents for rent, camping area (for those with own tents)
Php 500 for 2-person tent (w/ mattress, pillows, blanket); Php 150 per person if you have your own tent
Contact: +63-995-237-4811, jacksplacenacpanbeach@gmail.com
Hammock Homestay – about 500m from Nacpan Beach

Bamboo/nipa huts for 2, dorms for groups
Php 300-450 per person
Contact: +63-917-665-6614, hammockhomestay@gmail.com
At the time of writing this blog post, I found out that Mad Monkeys is planning to open hostels in El Nido proper and Nacpan. The hostel chain is pretty well known in Cambodia, where I came across it. It was pretty cheap. I don't know if their affordability translates to the Philippines though.
Caalan
Caalan GK (Homestay) – Gawad Kalinga Sunset Village, Caalan, El Nido

Cooperative-run homestays and restaurant
Contact: +63-946-217-7310, +63-905-460-4723, caalangk@gmail.com
Cadlao Resort – Cadlao Resort

Private rooms and bungalows (seaside, poolside, garden, family)
The majority of inns and guesthouses in El Nido are owned by local residents and run by them and their families. I highly encourage you to support the local community by patronizing these establishments. The same goes for homestays and food.
Happy planning! 😀