Apo Island is the perfect combination of underwater wonderland and tropical nirvana. Although the sanctuary itself is still (temporarily) closed as of December 2016, the island has its own brand of charming allure for visitors. Can you say coral reefs? And how about sea turtles? Then, there are rock formations, sweeping views of the sea from Apo's highest point and the rugged beaches. Yep, there's much to see in this paradise.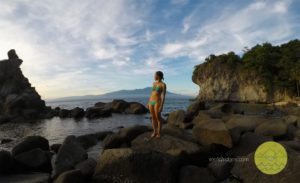 Basking in the last rays of the sunset while hamming it up for the camera.
Travel Tips
Share a boat. 🙂 If you have a group of 4, find other people/groups to share an 8-seater boat. It's cheaper.
Prepare to go off-grid. Bring your power banks, flashlights and solar chargers if you have them. The island's power comes from generators and the occasional solar panel, so you can only charge electronics from 6-10PM. Remember to charge your stuff during this time or you'll have to wait until the next night or when you get to the mainland.
Waterproof your gear when crossing from mainland Dauin to Apo Island. Even better, change into your swimsuit before getting on the boat. The ride to the island always entails a good amount of splashing waves enough to get passengers soaked.
Secure your accommodation beforehand if you plan to stay overnight. We were lucky to have found a couple of available rooms on the day we arrived, but homestays and resorts on Apo Island fill up pretty fast especially during the holidays and the sunny summer months.
Make sure you have small bills or change for buying from sari-sari stores, having meals cooked by local families and for the island's fees.
The earlier, the better. Try to arrive on Apo as early as possible. Crowds of tourists arrive at around 8-10AM, and day trip boats leave from 3-4PM. You can't stay longer on the island unless you stay  overnight.
What to See and Do
1. Swim with the sea turtles

If you loved those mellow sea turtles in Finding Nemo, you'll find your happy place among the sea turtles floating about in front of the island. Just like the cartoon, these adorable creatures have a lazy, almost stoned, way about them. So much so that they make swimming in strong currents look way too easy. I tried to catch up with one to see how fast they go and he glided away in seconds, still looking as chill as ever.
A Head's Up: There can be hordes of people in the protected area. My travel tip to fully enjoy the sea turtle experience is to stay the night and wake up really early in the morning to avoid crowds. Wake up around 6AM for breakfast and head out to the water by 7AM so you can have the area and the turtles to yourself.
2. Dive (or snorkel) the reefs

As an island surrounded by marine protected areas, Apo will definitely satisfy your need to see bright fishes and interesting marine creatures. The reefs are healthy and full of fishes, and the waters are pretty clear. Even apprehensive or amateur swimmers will enjoy their visit because reefs still abound in shallow waters.
3. Catch the sunset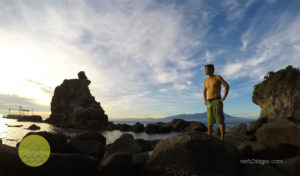 The good thing about staying the night (or for a few nights) is that you get to witness magnificent sunsets from the beach, especially   among the rocks in front of the Apo Island Resort.  At sunset, there's very few tourists left (the day trippers have gone home by then) so you can enjoy the sight in peace. For photographers and the casual picture aficionados, Apo island's sunset makes for some amazing shots at the aforementioned rock formations.
4. See the old lighthouse and wave to Siquijor Island on the horizon

Go to the side of Liberty's Lodge to climb the stairs and walk the uphill trail that leads to one of the island's highest point. Once you get to a clearing, take the trail on the left across the field and past the old school. You'll find the small lighthouse there. On my first visit to Apo, you could still climb the structure but they barred people from climbing it due to it being a hazard.  You can however go to the very edge of the clearing and see past the expanse of water to Siquijor in the distance.
5. Unplug and unwind
Grab a book, set up a hammock, find a cold drink or just chill at the beach. The upside of not having electricity is relaxing in this tropical retreat without the hassles of technology and the pressures of real life.
A 2-Day Itinerary
We arrived in Dauin at around lunch because our visit to Apo Island was part of a road trip. The following itinerary is if you're leaving Dumaguete early and is an ideal schedule to get the full experience.
Day 1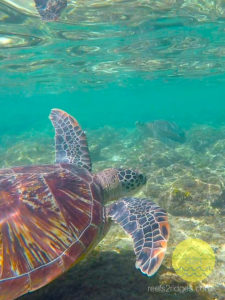 6:30 AM – Arrive at Malatapay Market area, walk or drive to the shore/port area
6:45 AM – Register at the port office for boat assignment and departure time
7:00 AM – Depart for Apo Island
7:30 AM – Apo Island arrival, registration at tourism office
8:00 AM – Check-in at accommodation. Breakfast at the beach.
9:00 AM – Snorkel or wander along the beach cliffs and rock formations.
10:30 AM – Climb up to the old lighthouse.
12:00 PM – Lunchtime
1:00 PM – Swim, snorkel or explore the marine sanctuary (no swimming allowed). You can also check out the rest of the island's beaches.
5:00 PM – Sunset swimming and photo-taking at Apo Island Resort's beach area (Sunset times depends on time of year, so check to be sure.)
6:00 PM – Charge your electronics before dinner.
8:00 PM – Drinks at the beach.
10:00 PM – Lights out.
FYI: If you're only there for a day trip,  head straight to the protected area after registering at the tourism office. Instead of beach bumming and snorkeling around reefs, swim with the sea turtles from 8-10:30AM. If you start exploring the island after lunch, be sure to be back by 2:30 PM at the beach to have a last swim and prepare before the 3PM departure.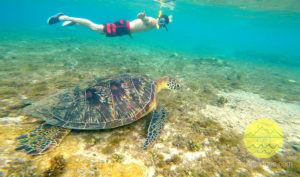 Day 2
5:30 AM – Sunrise at the old lighthouse clearing (bring a flashlight for walking the trail in the dark)
6:45 AM – Go to protected area and pay fee. A guide will be assigned.
7:00 AM – Swim with the sea turtles!!
8:30 AM – Breakfast at the beach
9:30 AM – Swimming, snorkeling, exploring.
12:00 PM – Lunchtime
1:30 PM – Check out
2:00 PM – Wait for the boat at the beach. Buy souvenirs if you're into that sort of thing.
3:00 PM – Depart Apo Island.
3:30 PM – Arrive at Malatapay Port
4:00 PM – Off to Dumaguete
Apo Island Budget
| | | |
| --- | --- | --- |
| Accommodation | 500/2 pax | 250 |
| Boat Note: Based on a 4-person boat with next day pick-up (overnight). In any case, an 8-seater boat is cheaper. | 2,200/4 pax | 550 |
| Snorkel with mask and aqua shoes rental | 100 each | 200 |
| Fees | 100+75/person | 175 |
| Food Note: Breakfast is free with homestay on the second. All our meals were home-cooked by families on the beach or our homestay host. Water and fruits were bought at Malatapay Market, where it was cheaper. | Breakfast: 200/2 pax Lunch (2 days): 500/2 pax Dinner: 300/2 pax Soda/beers (liter): 200/4 pax Water: 80/4 pax Fruits: 120/4 pax | 600 |
| | Total | 1775 |
For the travel guide on transport and how to get to Apo Island, available accommodations and island fees you'll need to pay, see this post.